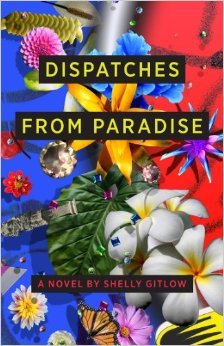 I had the great pleasure of being part of Shelly Gitlow's book launch for her debut novel, Dispatches from Paradise at Books & Books in Coral Gables.
From the Books & Books website:
Dispatches from Paradise is an over-the-top erotic comedy about three generations of women living together in Miami, where too much is never enough. Author and screenwriter Shelly Gitlow makes her fiction debut in this colorful, lightning-paced, and often wildly unpredictable modern tale about sex, lies, and love.

From the very first page, Dispatches from Paradise takes readers to the family battlefield of three generations of women living together in the sultry city of Miami — where DD cups abound, octogenarians recite erotic poetry and an S&M Fitness class is not for the fainthearted. Written in the distinct voices of Liz (39) who pulls the plug on her marriage and quits her job so she can re-boot her life, her hypersexual mother, Claudette (55) who's searching for her next partner/meal ticket, and Darcy (18) Liz's beautiful, reckless daughter who's realizing she might also have a brain and be a lesbian, Dispatches from Paradise explores the complex dynamics of the women's relationships as they tear through Miami's wild clubs and outrageous art scene, changing, growing and reconnecting on new terms. Drawing upon her unique insights as a family therapist, author Shelly Gitlow gives readers three characters they will never forget.
I had the great pleasure of reading excerpts as Liz. It was very gratifying to be part of this special evening. They captured the evening in live stream:
The book is also available at the link above. It's a great read!