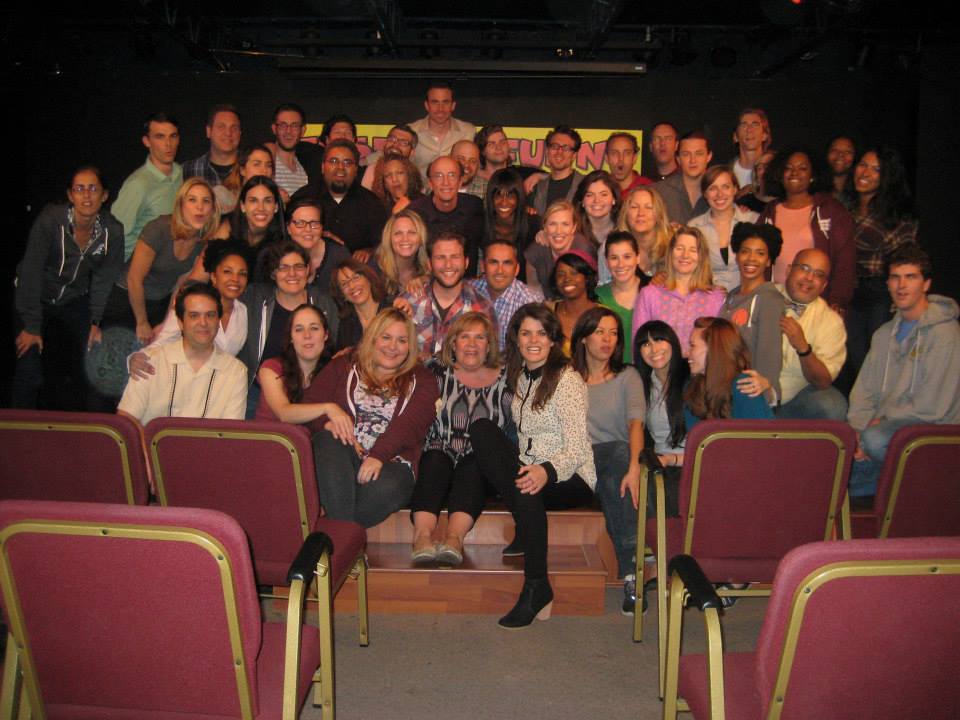 Just. Wow.
This year I actually put my goals down on paper for the new year. One of my goals was to do an improv intensive at either iO or The Groundlings. I was hoping for a weekend and was pretty sure I would have to travel to LA or Chicago and wasn't sure how I was going to swing it, but I put it down anyway. Two weeks later, David from Just The Funny called me to tell me that iO was coming here for a full week intensive in March! I jumped on it and signed up. I'm so happy I did.
We started each day at noon and ran until 6:30 or 7, Monday through Friday. It was fun, challenging, eye-opening, thought-provoking, and about a million other adjectives all rolled up together. We started the intensive as one big group, 48 students strong. Charna Halpern and Tara DeFrancisco had traveled from Chicago and Lindsay Hailey came in from LA to teach the first ever Miami Intensive. They led us in some opening games and even got us doing improvised dance (which was hilarious).
After lunch we split into three groups of 16 and spent the rest of the week working on the Harold. I feel so amazingly fortunate to have been put into Tara DeFrancisco's group. Not only is she an amazingly funny performer, named both Funniest in Chicago and one of the Top 50 Performers in Chicago, but she's also a phenomenal teacher. Her kindness and intelligence helped each and every one of us grow as performers and individuals. We also had the great pleasure of spending one afternoon with Charna. That lady knows her stuff, let me tell you.
This would be a very long post, indeed if I were to detail what we did each day and to be honest, it was all such an intense blur. The days literally bled into one another and even within our group we were uncertain which day was which when we tried to recall a specific moment. I will, however summarize what I learned:
Everything is a Harold
Relationship trumps plot every time
Eye contact creates connection
Every team member is an artist, poet, and a genius, as are the audience members
Improv makes me a better person
The week culminated in a student showcase which was fun, fun, fun. We were then treated to a performance by Tara and Lindsay, which was a treat indeed. They proved every bit of what they taught us over the week. And they killed.
Each and every one of us has come away from this experience a different person. I, for one, will never be the same. These three women and my fellow group members have made an impression on me and changed me for good. I think my favorite Tara-ism that I have come away with is "We'll see." And we shall.