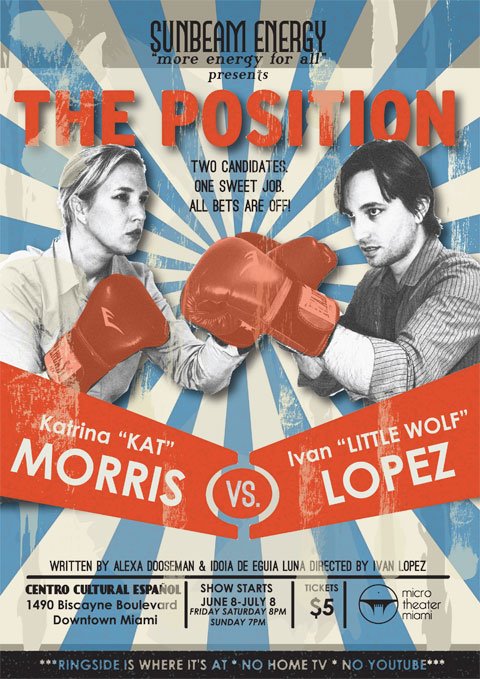 I was invited to perform in the MicroTheater Miami Prime Time program for the month of July. What a treat. It was the second installment of MicroTheater here in Miami. The concept originated in Spain. Several short plays (no more than 15 minutes) are performed in very small theaters six times per night. Audiences shop ala carte and pay $5 per play. Of the 8 plays presented during the Prime Time program, our play was the only one in English. The rest were in, you guessed it, Spanish. The run was so successful, that MicroTheater will now become a permanent feature in Miami with new shows cycling through every month. Several other cities are in the works, including Buenos Aires, LA and New York.
Our play was called The Position, written by Idoia De Eguia Luna and Alexa Dooseman, writing partners out of San Francisco. I was so excited when I read the script – it was witty, tightly written and had a point of view! I hate to say it, but that's not so easy to come by. I'm not a writer, so I can't really sum it up very well, but the story was about two job applicants for a really sweet job who are subjected to a group interview and gradually one-up each other until hilariously outrageous things happen. It's one of those pieces that would have been on the Carol Burnett show if it were around today.
Our director and my fellow interviewee was Ivan Lopez of the White Rose Theater in Miami and I couldn't have asked for a better partner in crime. We fell into a way of working that was very organic and we had an absolute blast. I truly feel fortunate to have had such an amazing experience and one that I think changed me as an actor.
The experience of performing at MicroTheater was truly unique and a real exercise in concentration! Our "theater" was literally an 8′ x 9′ generic office. Our set consisted of two chairs and a blue dot on the wall opposite us, representing the interviewer and our audience was 3 feet away from us, with the front row in chairs and the rest standing. Our entire play was delivered to the blue dot, which sometimes someone would stand in front of! In that case, we shifted our focus slightly to one side of the person.
There are points in the play that are just so hilarious that people would be cracking up right there in front of us and it took a great deal of focus to stay in the moment and drive forward. After five weeks of six shows per night, three nights per week, my powers of concentration became finely tuned. In fact, doing MicroTheater confirmed for me that acting is 90% concentration.
I highly recommend participating in MicroTheater if you can. It's unlike any other acting job in theater or film. In my opinion, it's almost a mix of the two. It has the intimacy of film, but the immediacy of theater. It was thrilling to be in front of just the sheer number of audiences in such a small space and I'm so glad I did it. I'm putting a link below for the next run: